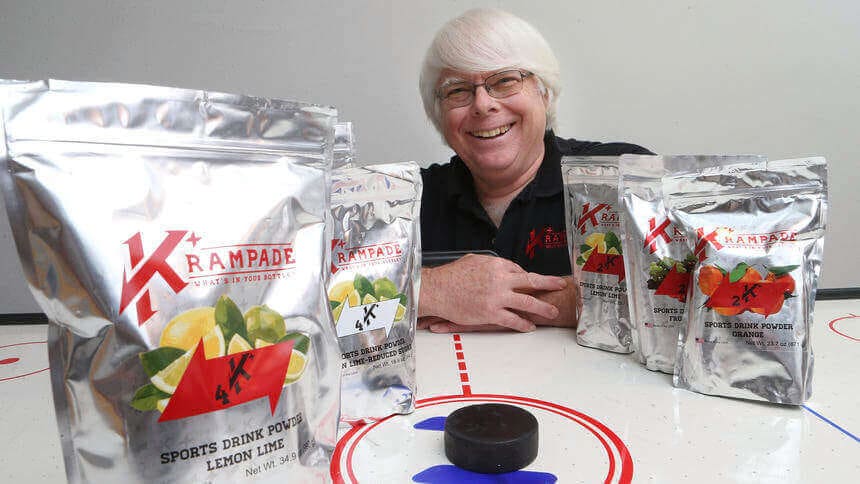 Original article published by Grand Forks Herald written by Brad Elliott Schlossman. Photo by Eric Hylden/Grand Forks Herald.
---
Eric Murphy once had full-body cramps so bad that he ended up in the emergency room. His doctor advised him to drink grapefruit juice to address the problem. It worked for a while, but as the years passed, the cramping issues returned. The juice wasn't enough. So, Murphy, a UND med school professor, decided to start experimenting with his own formula to address the problem.
He came up with a potassium-based drink—a powder that mixes with water—that would address potassium deficiencies. "And by golly, it actually worked," Murphy said.
After the formula proved to be successful for his son Sean, a wrestler at Grand Forks Red River and the University of Nebraska, and the son of a friend in Illinois who had such intense cramping problems that he couldn't play in the second half of football games, Murphy decided to turn that formula into a business.
It is now called Krampade and it is starting to work its way into the sports world.
Some UND men's hockey players began using it two years ago during games. Last season, the use extended to practices, too. The UND football, basketball and track and field teams have started using it as well. Krampade doesn't replace traditional sports drinks—UND athletes still use Powerade during games and practices—but it is able to serve as both a preventative fluid and something that works quickly after cramping has started.
Murphy has signed three former UND hockey players to endorsement deals—Tucker Poolman of the Winnipeg Jets, Zane McIntyre of the Boston Bruins and Clarke Saunders, who is playing professionally in Europe. Poolman was one of the first users with the UND team during the 2015-16 national championship season. He said he noticed immediate differences—both during competition and after it.
"Nights of waking up with cramps after competing just vanished," Poolman said.
Murphy is selling two different versions of Krampade—the 2k and 4k. The 2k mix—designed for a 16.9 oz water bottle—is generally used as a preventative measure. The 4k is used when cramps begin. It also comes in different flavors and is clear. "Equipment managers like that part," Murphy said, referring to the fact that it won't stain jerseys.
While Krampade is gaining traction among high-performance athletes, Murphy said the product was made for a wide array of people who have any types of cramps. His oldest client has been 91. There's an 86-year-old pickleball player in Cincinnati who uses it, too. Although Murphy said the product was originally for use for the general population, he plans to first push Krampade on the sports market. He has met with several NHL teams about using it and plans to continue to do so.
The next step will be moving the company from Lincoln, where his sons live, to Grand Forks. But he says he won't be selling the company. "People have asked what will we do if the company goes big," Murphy said. "We're going to keep this thing evergreen."